Musée de l'Imprimerie et de la Communication graphique
13, rue de la Poulaillerie
69002 Lyon (metro stop Cordeliers)
​​​​​​​Access
Metro line A, stop at "Cordeliers"
Bus lines C3, C5, C9, C13, C14, 27, 171
Coaches: drop-off area on the quai
Jean-Moulin (along the Rhône river)
Tel 04 78 37 65 98
mil@mairie-lyon.fr
Opening times
Individual visitors:
- Wednesday to Sunday, 10:30 am to 6:00 pm (ticket office closes at 5:30 pm)
Groups (booking in advance is mandatory):
- Tuesday to Friday, 9:00 am to 6:00 pm (the museum is closed on Tuesdays from 12:30 pm to 1:30 pm)
- Saturdays and Sundays, 10:00 am to 6:00 pm
- self-guided visits of the museum are possible from Wednesday to Sunday, 10:30 am to 5:30 pm

The museum is closed on Mondays as well as on January 1, May 1, November 1, December 25.
Admission
Full price ticket: 6 € - 8€ (during periods of exhibition)
Reduced price ticket: 4 € - 6€ (during periods of exhibition)
18-25 year-olds
Lyon Tourist Office employees
Musée des Confluences annual pass holders
Free admission (proof required):
Under 18s
People with a disability and the person accompanying them
Jobseekers
Minimum-allowances recipients
Non-taxpayers
Employees and retirees of the Ville de Lyon, the Conservatoire à Rayonnement Régional and the ENSBA of Lyon
Journalists
Guides
ICOM et ICOMOS card holders
Members of the MAPRA or the Maison des Artistes
Members of the military for the Vigipirate plan
Members of the Amis du musée de l'imprimerie non-profit
Free admission for the following card holders:
- Carte jeunes musées
- Carte musées
- Cartes jeunes culture
- Carte culture
- Lyon City-Card
- Pass'Région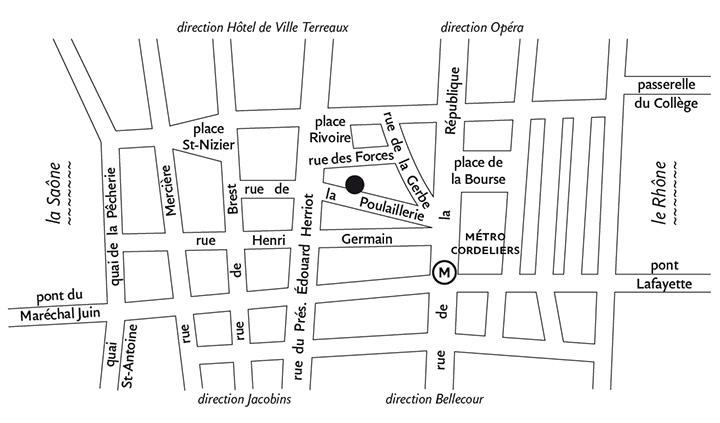 Group visit information:
Tel: 04 37 23 65 43
resa-mil@mairie-lyon.fr
The museum reserves the right to cancel any activity if necessary.
Documentation center:
Tel: 04 37 23 65 36
Access to the documentation center of the museum is only possible by appointment. It is open from Monday to Thursday from 9:00 am to 12:00 pm and from 2:00 pm to 5:00 pm, and on Friday afternoons from 2:00 pm to 5:00 pm.
Accessibility:
The reception provides visitors with baby seats if needed.
The museum does not meet with accessibility norms for people in wheelchairs. The absence of any elevator at the moment and the general layout of the building make the access difficult for visitors with reduced mobility. We remain available for any further information.