Festival Ça Presse ! - Guided tour with author Vladimir Kazanevsky
As part of the press cartoon festival ÇA PRESSE!, the Museum of Printing and Graphic Communication invites you to a privileged visit of the collections as well as a discovery of the typographic workshop.
This discussion/wandering in the permanent exhibition halls will be carried out in the presence of the guest Ukrainian press cartoonist Vladimir Kazanevsky, Joseph Belletante, Director of the museum, the festival team as well as the museum's public service.
A focus will be offered on the collections related to the production of newspapers in wartime.
The visit will end at the typographical workshop where everyone will be given a small typographical sheet specially prepared for the occasion.
On the program for this Friday, March 17 : 
3:30 p.m.-4:15 p.m.: 45 min strolling visit
4:15-4:30 p.m.: 15m discussion with the author about his work
4:30-5:15 p.m.: approximately 45 min discovery tour of the typographic workshop
Duration: 1h45
Rate :
Adults: entrance ticket price + 8 euros
Under 18: 6 euros
Booking link coming soon!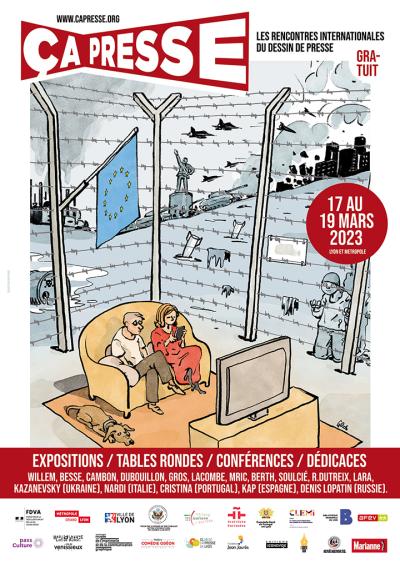 The festival
See you for a new edition of the International Meetings of Press Cartoons in 2023 from March 17 to 19, 2023.
In 2018 and 2019 many renowned press cartoonists were welcomed: Willem, Dubouillon, Gros, Luz, Tignous, Coco, Soulcié, Lefred Thouron, Diego Aranega, Bauer, Lacombe, Besse, Faujour, Pakman, Reiser , LB, Lara, Siné, Deligne, Micael…
The 2019 edition also had the honor of welcoming Chloé Verlhac, godmother of the Estates General of Press Cartoons and wife of Bernard Verlhac dit Tignous who was assassinated on January 7, 2015 during the Charlie Hebdo attack.
In 2022, the Rencontres du cartoon de presse became the international festival of press cartoons.
The program for this 2023 edition can be found on their website!

The author
Vladimir Kazanevsky was born in 1950 in Ukraine. He graduated from Kharkov State University, specializing in "cosmic radiophysics", in 1973, and from the Institute of Journalism in Kiev in 1984. His cartoons have been published in many newspapers and magazines around the world. He has won more than 500 prizes in 53 countries in international drawing competitions.
Kazanevsky is also the author of many books such as Heads, Revelation of Elderly Cupid or Art of Modern Cartoon for example. The most recent is Soft Knees (2018).
His drawings have been published in many newspapers and magazines around the world: "Yomiuri Shimbun" (Japan), "Nebelspalter" (Switzerland), "Eulenspiegel" (Germany), "Courrier international" (France) and many others.
Due to the war that broke out in Ukraine at the end of February 2022, Kazanevsky had to flee his country in March 2022. He received the 2022 International Prize for Cartoonists, the Cartoonists Kofi Annan Courage in Cartooning Award, from the Freedom Cartoonist Foundation , in partnership with CRNI and Cartooning for Peace.