Jacno, a man of "caracter"
Behind "Jacno", there are several men: the typographer, the lover of letters, the designer of alphabets who made the heyday of magazine advertisements, cinema and theater programs like the character "Chaillot" created for the NPT; the poster artist, signatory of the brand image of the Théâtre National Populaire or of the three keys of the Festival d'Avignon; the designer, who redesigned the famous winged helmet from the Gauloises package and who worked for brands as prestigious as Révillon or Guerlain; the graphic designer, finally, designer of the formula of L'Observateur, of France soir, of the headlines of the newspapers Ici Paris, Radar or Détective and of the jackets for famous publishing houses.
It is to this artist in the shadows, whose works have remained more famous than his name, that the TNP wishes to pay tribute, through the hosting of two events: Signé Jacno, an exhibition at the TNP and Oh Jacno!, a project of 20 posters produced by European designers in tribute to Jacno.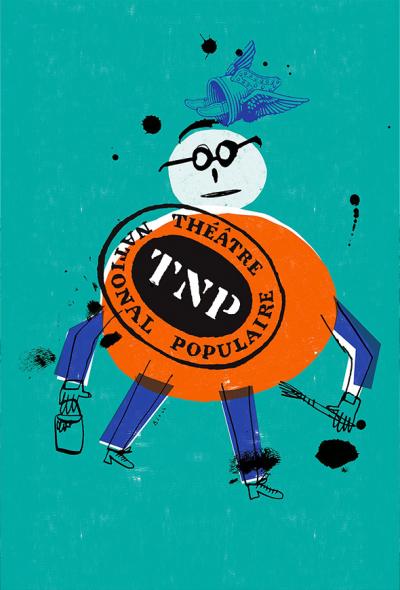 Oh Jacno !
 A graphic tribute by 20 European designers
To make this tribute a contemporary event, 20 European creators took up the same challenge: to create a poster echoing the singular work of Marcel Jacno, following precise specifications. They thus sign twenty original posters, in a format of 120 × 175 cm, printed in screen printing in three specific colors.
These posters will be exhibited within the TNP. The exhibition will then be itinerant, and will take place in particular at the Museum of Printing and Graphic Communication but also at the Signe, national center of graphic design in Chaumont. This tailor-made exhibition hopes to highlight the influence and current relevance of the work of Marcel Jacno.

Artists taking part in the project: Silvana Amato, Atelier 25, Baldinger • Vu-Huu, Sarah Boris, Bureau 205, Change is good,Pierre di Sciullo, Helmo, Anette Lenz, Michel Lepetitdidier, Harmen Liemburg, Anja Lutz, Fanette Mellier, Richard Niessen, Sandrine Nugue, Poste 4, Stéréo Buro, Studio aperçu, Tereza Ruller, Silvia Sfligiotti.
From March 23, 2023, one of the twenty posters of the exhibition Oh Jacno! will be showcased each month in the museum hall: come and discover them!