Emily Dickinson, Enveloppe.s
Emily Dickinson (1830-1886) makes no secret of the demands she places on life and her poems. Writing as closely as possible to her emotions, always letting her words overflow her thoughts, the American poet knew very early on that the strength to write gave her a vital impetus capable of facing the difficulty of being in the world and with others.
Poet and botanist, she begins by throwing her sentences on the papers that surround her, in her office, her bedroom, her kitchen. The smallest corner of paper darkens, the back of the envelopes received becoming the first place of writing before the notebooks come to fix the inspirations and the collection of the most inspired verses of the moment. The fiction of the poems will thus come to fill in torrents the lack and the absence that real life imposes on it, gradually withdrawing from a world too rough to prefer the unsatisfied imagination of its interior dialogues.
Publishing almost no poems during his lifetime, Dickinson became one of the most heartbreaking literary voices of the 19th century, and still resounds brutally with the intimate violence of our time. Defending an identity built as much from within as from without, Dickinson immerses, explores and exposes humanity in its rawest impotence, a standard that seems essential to us in defending ourselves against powers that are still slow to die and surrender.
A celebration of sensitivity and impotence, which has come down to us through fragments of poems we have chosen to present to you at random, to recall both the fragility and the eternity of her work, unfinished by nature.
Exhibition from Friday November 24, 2023 to February 25, 2024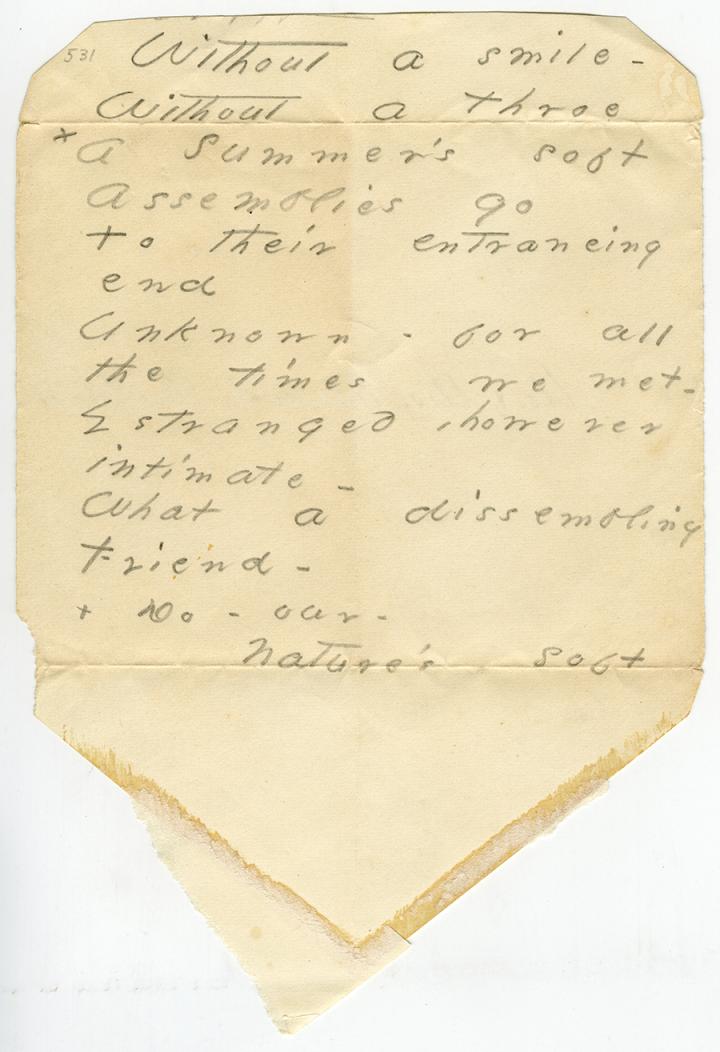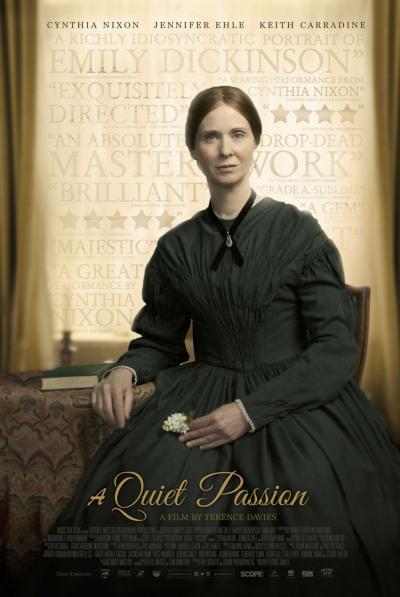 On Saturday November 25, 2023, enjoy the screening of the film Emily Dickinson, A Quiet Passion de Terrence Davies, 10:30 AM, at the Cinéma Lumière Terreaux (5€)
Great Britain, Belgium | 2017 | 2:05
With C. Nixon, J. Ehle, J. May
New England, 19th century. In her boarding school for young girls from a good family, the young Emily Dickinson never ceases to rebel against the evangelical discourses that are professed there. Her father is forced to bring her back to the family home, to the delight of her sister Vinnie and her brother Austin. Passionate about poetry, Emily writes night and day in the hope of being published. The years pass, Emily continues her search for the poetic quintessence. The meeting with a young socialite independent and refractory to social conventions revives her rebellion. From then on, she no longer hesitated to oppose anyone who wanted to dictate her conduct.